Secure 16Gb USB Flash Drive.
Ever worry about the data that you carry on a thumb drive? Do you need to keep copies of passwords, operation plans, crime scene images or reports with you? Do they need to be kept secure?
We have a great solution! Our durable PIN-enabled flash drive offers extreme security for sensitive information at a highly competitive price. Files stored on this drive can only be accessed by entering the correct PIN combination. The drive incorporates a processor and rechargeable battery and works independently from a PC.
Secure Compact Flash Drive Operation:
To operate, you press the key button, enter your PIN code and press the key button again. If the code was entered correctly, the green LED flashes. This indication means that you have 30 seconds to plug the drive in a USB port and use the files.
User-Defined PIN Code:
There is no software to install. You decide what PIN (Personal Identification Number) you would like to use to secure the drive. PIN codes can be anywhere from 4 to 15 digits.
For maximum security, there is NO PIN RECOVERY. When setting the PIN number, make sure you record the number in case you forget it or need it later. Without the PIN, the drive can be reset to the factory default PIN, but all files will be erased.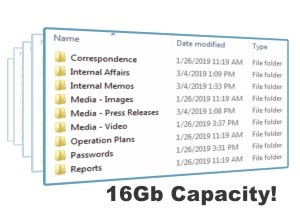 High Capacity:
This flash drive has a 16Gb (sixteen gigabyte) capacity. That means it can store 4,000,000 PDF pages or pages of text, 32,000 500Kb images or 16,000 high-resolution 1Mb images.
Operation:
Once the drive is unlocked, you can read and write files just like any other unsecured flash drive. The drive automatically locks when you remove it from the USB port.
Tamper-Resistant:
If incorrect PIN numbers are entered 10 times in a row, then all the files on the drive are deleted and cannot be recovered.
Specification:
• Secure USB 2.0 thumb drive/flash drive with 16Gb capacity
• PIN enabled and user-programmable from 4 to 16 digits
• Size 3" length x 1" wide x 0.5" high
• Durable, but not water resistant