In this blog post, we'll cover all the important things you need to learn about cybersecurity certification and how to build a strong cybersecurity career.
Introduction
With technology getting advanced at an ever-increasing rate, the demand of cybersecurity becomes more crucial than ever. It has now become a world-wide concern for organizations, and as a result, the demand for cybersecurity experts has skyrocketed.
In fact, according to a new study by Grand View Research, the global cybersecurity market size is expected to reach USD 500.70 billion by 2030, registering a CAGR of 12.0% from 2022 to 2030.
Cybersecurity professionals spot and mitigate potential cyber threats and protect the companies' financial data and other sensitive information.
However, to become a cybersecurity specialist, you must earn a degree or a cybersecurity certification that attests to your knowledge and experience in this field. These certifications highlight the person's technical proficiency in protecting and securing the company's data information.
The Current Job Market for Cyber Security Professionals
The current job market for cybersecurity professionals is currently growing, with millions of applicants applying for cybersecurity certifications every year. However, it is also anticipated to keep expanding in the upcoming years because of the rising cyber-attacks and threats.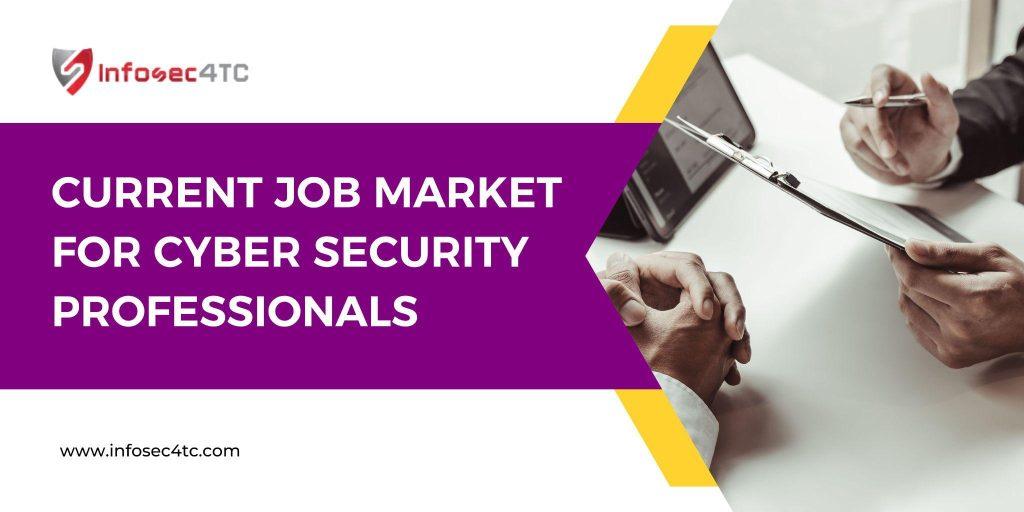 Here are some of the statistics on popular job roles for cybersecurity professionals :
Information security analyst – $83,109
IT security engineer – $99,946
IT manager – $105,134
Information systems security officer – $80,751
Help desk manager – $80,298
Security engineer – $92,117
Cloud engineer – $102,622
Security administrator – $61,655
Security analyst – $83,167
Statistics of cybersecurity salaries as per states
As per statistics, the most lucrative cybersecurity salaries are offered in large cities with the relatively high cost of living. Here is the list of the states where professionals earn high-average cybersecurity salaries, according to the BLS.
California: $135,200
Iowa: $125,650
New York: $133,210
Maryland: $126,110
District of Columbia: $124,980
Why is cybersecurity certification important for cybersecurity professionals?
The cybersecurity certification is crucial for professionals because it proves their efficiency as knowledgeable experts in the industry. It offers verified evidence of a person's skills, knowledge and expertise in the cybersecurity field.
It helps job candidates stand out from the competition and can help in the advancement of their cybersecurity careers within their current organisations. Employers usually require or prefer certifications when hiring or promoting as cybersecurity specialists.
These certifications are also crucial to organizations that adhere to industry rules or security standards. Many regulatory agencies recognize these certifications, which help organizations meet their compliance requirements. Both individuals and organisations should make sure they have the information, abilities, and experience required to effectively protect against cyber threats.
Top CyberSecurity job roles in the cybersecurity field
Here are some of the best cybersecurity job roles:
Information Security Analyst:
Information security analysts identify and prevent cyber-attacks and protect the organization's data. They also develop and implement different security measures to protect the networks and systems.
Cyber Security Consultant:
They offer expert guidance on how to protect the company's data and other sensitive information. They work with information security analysts to develop & implement security measures.
Cybercrime Analyst
These professionals study and analyze malware attacks and the people who are behind these attacks. They also help recover sensitive data that is valuable to the organization.
Cloud Security Architect:
The cloud security architect manages all the hardware and technology-related work. They maintain the security of workloads, data, and systems within cloud media.
Cybersecurity Analyst
These professionals analyse cyber-attacks, malware and the behavior of
cybercriminals. They also develop security measures to stop the recurrence of such attacks.
Penetration and Vulnerability Tester
Penetration testers focus on ethical hacking. They simulate real-world attacks to detect security system cracks and provide improvement recommendations.
Read more at –  https://www.infosec4tc.com/blog/top-10-cyber-security-job-roles-and-salaries-infosec4tc/
The Most In-Demand Cyber Security Certifications
The most in-demand cybersecurity certifications are:
Certified Information Systems Security Professional (CISSP):
The CISSP certification is one of the most-after certifications in the cybersecurity industry, designed by the cybersecurity professional organization (ISC)². Earning this certification proves that you're experienced in the IT field and are capable of planning, implementing, and monitoring a cybersecurity program.
Certified Information Security Manager (CISM):
The CISM certification helps candidates gain more knowledge about managing corporate information security. This certification cover domains like program development, program security, and incident or risk management. This certification is valid for three years after completion.
People who earn this certification can pursue their careers as information security directors, managers or executives.
Certified Information Systems Auditor (CISA):
This certification from the organisation for IT professionals association, ISACA, shows your proficiency in identifying security vulnerabilities, developing and putting measures in place, and tracking compliance. For jobs in cybersecurity auditing, it's one of the most recognized and well-known certifications.
CompTIA Security+:
CompTIA Security+ is a widely recognized entry-level security certification that verifies the fundamental skills required for any cybersecurity job position. With this certification, you can demonstrate that you can assess an organisation's security, monitor and protect cloud, mobile, and internet of things (IoT) environments, understand laws and regulations related to risk and compliance, and recognize and address security incidents.
How to Obtain Cyber Security Certifications?
You can obtain cybersecurity certifications in numerous ways, including online courses, boot camps, and traditional academic programs. However, one of the best ways is through online training programs from a reliable online site such as InfoSec4TC.
We are one of the reliable and leading cybersecurity companies that offer a wide range of cybersecurity courses and training programs for individuals who want to build a strong cybersecurity career.
With the help of our online courses and training programs, you'll get the opportunity to earn a certification as a knowledgeable cybersecurity specialist in this industry. We also provide candidates with real-life cyber Security experience by working on real projects.
Why Choose InfoSec4TC?
InfoSec4TC offers top-notch deals and discounts on cybersecurity certifications and membership programs. Check out the deals now to establish a career in the cybersecurity industry.
Here are InfoSec's top deals and offers:
Conclusion
Cybersecurity certifications help an individual prove their efficiency as knowledgeable experts in the industry. If you also want to earn a cybersecurity certification, you can reach out to InfoSec4TC. We offer professional training certificates to individuals and provide them with real experience by working on real-life projects. To learn more about us, explore our website right away.