CISM: It is an advanced certification indicating that an individual possesses the information, knowledge, and experience required to develop and manage an enterprise information security program. CISM certification is intended for infosec managers, aspiring managers, or IT consultants who support infosec program management. The best CISM certification course will act as a feather on the cap, giving the candidate an edge over other candidates.
How to Become a CISM?
To become CISM, a candidate must complete the CISM certification, one of the top cyber security courses. The process of CISM certification includes a 150-question multiple-choice exam that is scored by using a 200-800 scaled scoring method, and the passing score is 450, which indicates that the individual meets a minimum consistent standard of knowledge set by the ISACA Certification Committee.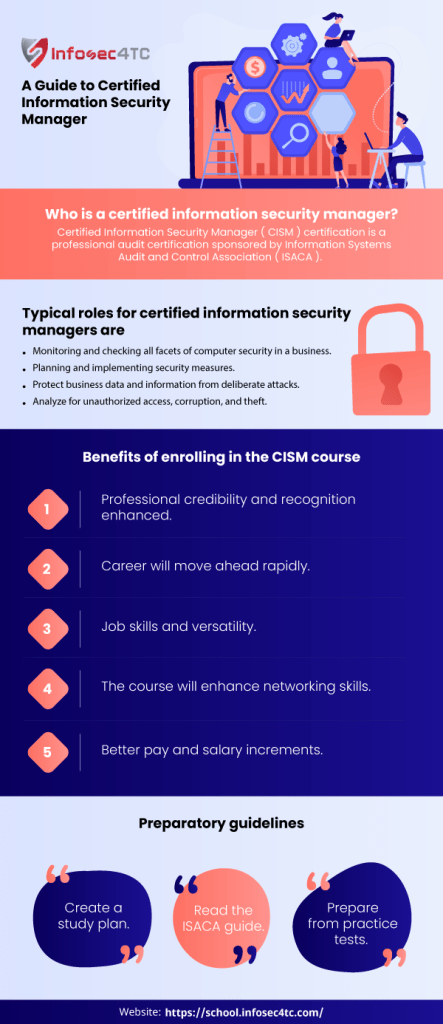 The exam usually covers four areas of the content, including-
Information Security Governance.
Information Risk Management.
Information Security Program Development and Management.
Information Security Incident Management.
How Often Are the Domains of CISM Updated?
To stay relevant, the CISM domains are updated frequently; however, major changes that might significantly impact the examination are seldom made.
How Much of Each Domain Is Covered on the Exam?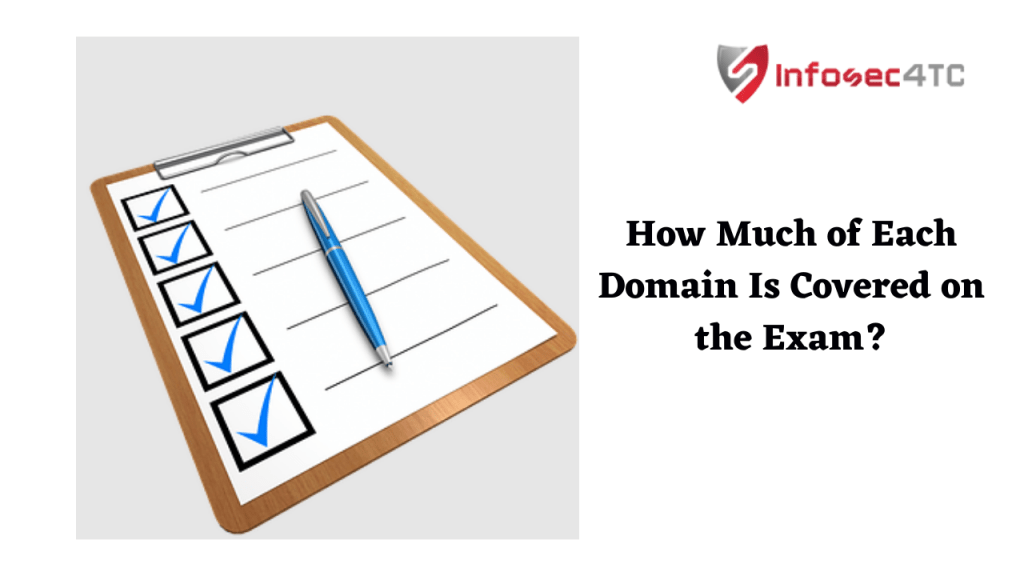 The aspect of domain coverage within an examination is quite important in helping candidates to make an accurate estimate of the amount of energy and time to focus on each aspect of the study. Candidates who properly plan their studies spend less energy on lower-priority topics. They are most likely to pass the examination, and a cyber security online training provider can guide a candidate in the best ways about the percentage of the domain.
The percentage of each domain in the CISM exam is structured as follows-
The information security governance domain covers 24%.
The information risk management and compliance domain cover 30%.
The information security program development and management domain cover 27%.
The information security incident management domain covers 19% of the examination.
Prerequisites and Requirements of CISM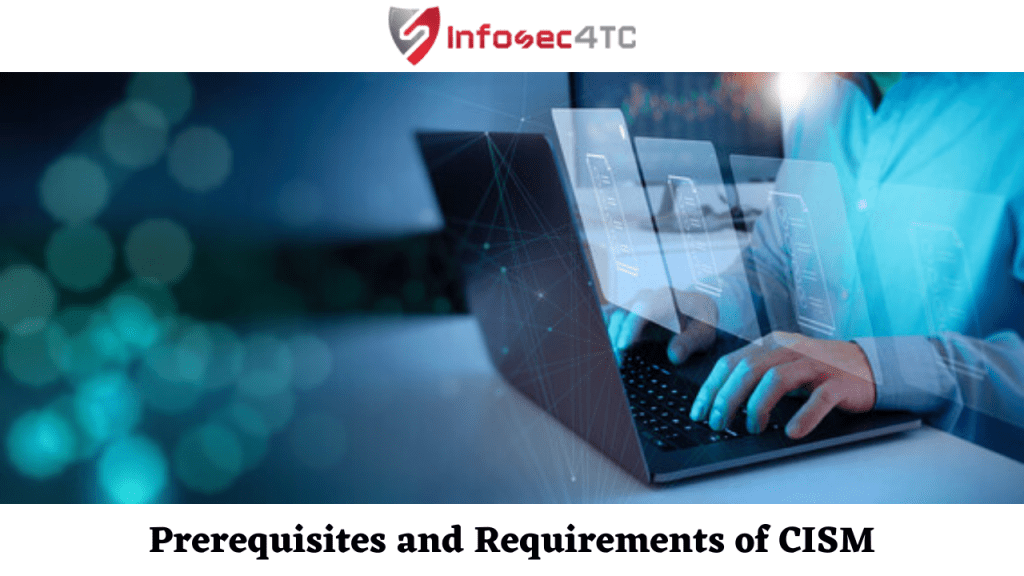 To qualify for the CISM exam, the applicants must have five years of experience in the infosec field, the experience needs to be verified, and the minimum three years of infosec management experience in three or more CISM content areas. The candidate must gain experience within 10 years preceding the application date or within five years from the exam date.
To be CISM certified, the candidate needs to fulfill two requirements:
– You need to get through the CISM exam, and
– You need to demonstrate a minimum required amount of work experience.
To meet that second requirement, you need five years of experience in information security within the decade before applying for the certification, with three years of management experience in three or more of the core areas listed above, which are referred to as job practice areas by ISACA.
There is some wiggle room here: Certain lower-level certifications can stand in for years of experience, and time spent teaching infosec at the university level can also substitute. But candidates need to remember that this is not a certification for newbies: you must have been around the block a while and have worked for some time.
Another interesting fact about this prerequisite is that you don't have to fulfill the entire job experience required to begin the process of getting your CISM certification. You can take the exam even if you do not have enough professional experience to qualify for the certification. If you pass it, you can apply for the certification once you gain the needed experience, as long as it is in the next five years. It is referred to as "acceptable practice" by the ISACA.
CISM Certification Cost
After passing the exam and accumulating enough work experience to qualify, you will be all set to apply for the CISM certification. It is relatively easy and requires a one-time $50 application processing fee.
However, CISM is not a one-shot; get it and forget certification. To maintain your certification, you must take at least 120 continuing professional education (CPE) hours over a three-year reporting cycle, with a minimum of 20 hours each year. If you are CISM certified, you are also expected to adhere to the CISM code of professional ethics. Finally, you have to pay an annual maintenance fee of $85, which is reduced to $45 for ISACA members. If you hold several ISACA certifications, you get a bulk discount on the aspect of maintenance.
CISM Jobs and Salary Benefits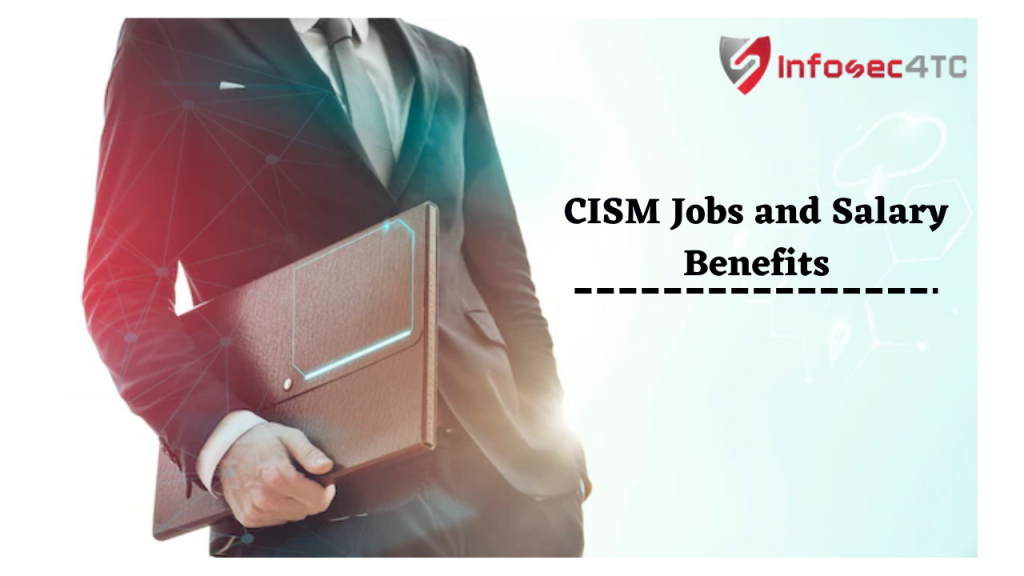 As you must have noted, there are several hoops to jump through, so the obvious question arises: is it worth it? Well, if you are interested in a management position- and the higher salaries such positions command- it is a great way to signal your expertise and seriousness about your career and ambitions. Jobs that go with the credentials of CISM include- information security manager, information risk compliance specialist, and CIO. These job titles are known to come with hefty salaries. With online cyber security courses like this, one can add a good package and enhance a career.
CISM Security Career Salary Benefits
CISM – Certified Information Security Manager
The average salary is expected to be $132,919. It is ranked second in North America's salary and 17th globally.
Are you all set to get your CISM certification? If so, School.infosec4tc will help you out. Do you wonder how? Through online cyber security courses, the candidates will learn all about the certification courses, cyber threats, and top-notch ways to manage the enterprise information security program.