Five decades ago, people would have called you a lunatic if you had talked about cybersecurity. But today, according to Brand Essence Research, the global cybersecurity market will be valued at $403 billion by 2027, with a compound annual growth rate (CAGR) of 12.5%.
According to the U.S. Bureau of Labor Statistics, "Information security analyst" will be the 10th fastest growing occupation over the next decade, and there will be 3.5 million cybersecurity job openings in 2025.
Now, amid all these promising statistics, the question worth weight in gold is, what is the best cybersecurity certification in the industry that can get you to the pinnacle of the industry?
Well, the answer is CRISC certification. CRISC stands for Certified in Risk and Information System Control. This is the certification provided by the ISACA. As per the official website of ISACA, CRISC is the only credential focused on enterprise IT risk management. This post will look at all you need to know about CRISC certification, cyber security training courses to prepare for the CRISC certification examination, and other important things.
What is CRISC certification?
CRISC certification validates an individual's experience in building a well-defined, agile risk-management program that can effectively identify, analyze, evaluate, assess, monitor, prioritize and respond to risks. When an employer hires a CRISC-certified candidate, it can rest assured that the IT risk-management program is designed based on the best practices, and its IT team is following governance best practices and taking a proactive and agile approach to ITRM.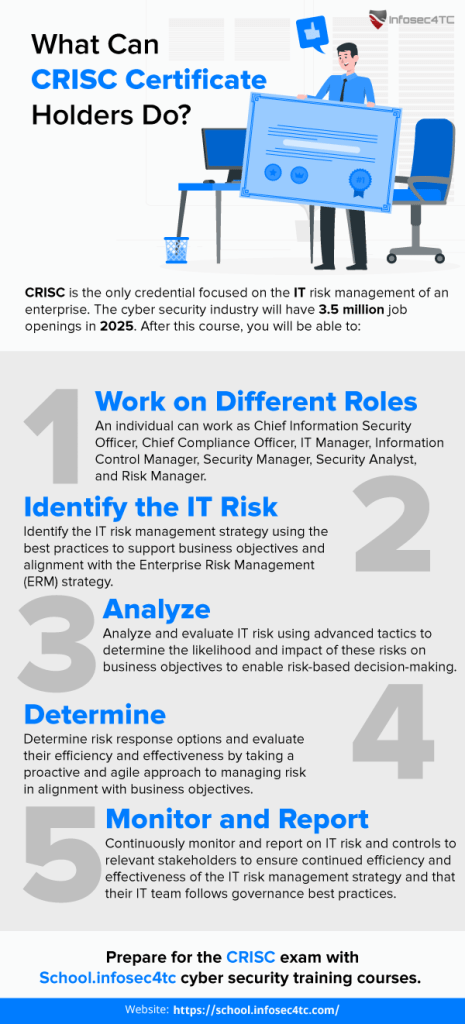 What Are the Job Opportunities After Clearing the CRISC Exam?
There are only 30k+ certification holders worldwide, and the average salary of a CRISC certification holder is US$151k+. From these official statistics, you can easily predict that there is great demand for CRISC certification holders. This certification is ideal for mid-career IT/IS audit, risk, and security professionals.
An individual can work on the following job roles after getting CRISC credentials:
Chief Information Security Officer
Chief Compliance Officer
IT Manager
Information Control Manager
Security Manager
Risk Manager
Information Security Analyst
Security Architect
Security Auditor
Security Director
System Engineer
Network Architect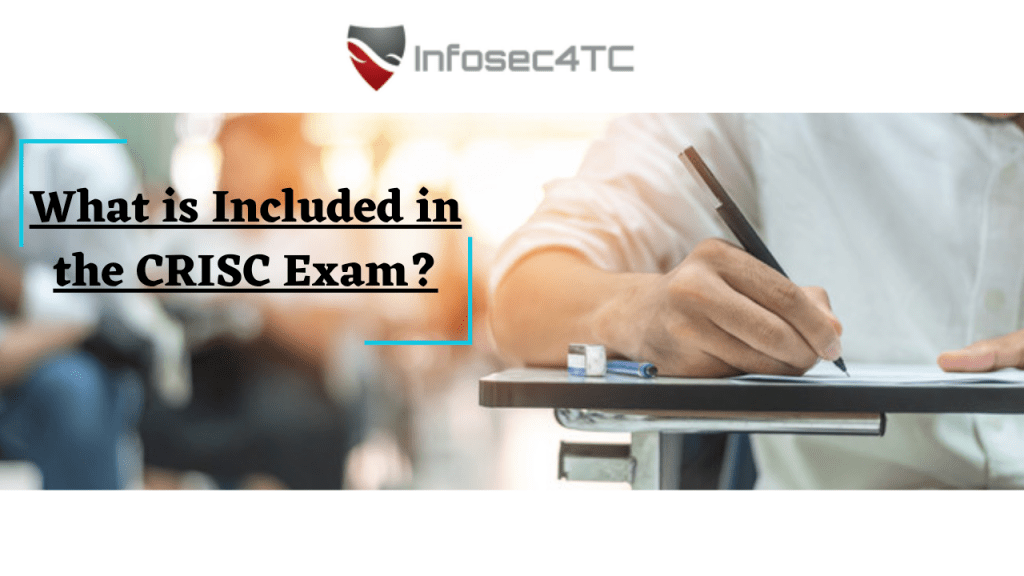 What is Included in the CRISC Exam?
CRISC exam evaluates your skills and knowledge of the best practices used in IT risk management. CRISC exam covers the four domains:
Domain 1: Governance (26%)
Domain 2: IT Risk Assessment (20%)
Domain 3: Risk Response and Reporting (32%)
Domain 4: Information Technology and Security (22%)
The registration fee for the exam for members is $575 and $760 for non-members. The candidate's eligibility to apply for the exam is established at the time of exam registration. It is valid for 365 days. Your fee will be fortified if you do not schedule and take the exam during your 12-month eligibility period.
As per the official website of the ISACA, a candidate must demonstrate the minimum work experience of 3-years in performing the tasks related to at least two (2) of the four (4) CRISC domains. Of these two (2) required domains, one (1) must be in either Domain 1 or 2. The work experience that the applicant has must be gained within the 10 years preceding the application date for certification. There are no substitutions or experience waivers.
What is the Passing Score of the CRISC Exam?
To pass an exam, you must receive a score of 450 or higher to pass the exam. It represents the minimum standard of knowledge. ISACA uses a common scale from 200 to 800 to report scores. If you score 800 to become CRISC-certified, it represents a perfect score with all questions answered correctly. If you score 200, it represents the lowest score possible and signifies only a small number of questions were answered correctly.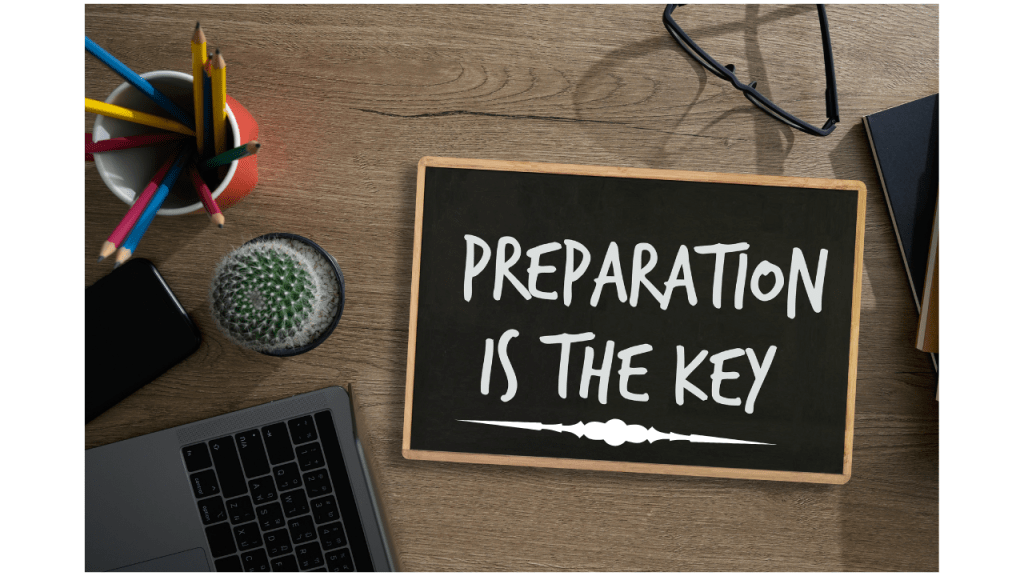 How to Prepare for the CRISC Exam?
CRISC is among the most difficult exams but with the right training; one can pass the exam on the first attempt. You have four attempts to appear for the exam. One initial attempt and three retakes. The retakes are as per the 365 rolling calendar date from the date of the first exam attempt. However, it is important to note that individuals retaking an exam are required to purchase a new exam registration for each exam attempt.
To prepare for the CRISC exam, you must follow a strategic approach. Here are the three practical tips that will help you pass the exam for the first time:
Know the syllabus
The first step is to understand the exam syllabus clearly. Then, you can refer to the official website of the ISACA to clearly understand the exam syllabus and pattern to start preparing for it.
Use the resources
A range of paid and free resources on the ISACA official website can help you with exam preparation. In addition, you can become a member of the CRISC community to receive the latest updates.
Enroll in a CRISC exam course
Enrolling in a CRISC exam course can highly increase your likelihood of passing the exam. A good CRISC cyber security online course prepares learners to pass the CRISC certification exam using proven instructional design techniques and interactive activities. You can also use the practice test to master your preparation for the exam.
Explore School.infosec4tc Certified Risk and Information Systems Control Course
Certified Risk and Information Systems Control exam preparation course by School.infosec4tc is a great option to help you pass your exam on the first attempt. This course incorporates video, interactive eLearning modules, downloadable interactive workbooks, downloadable job aids, case study activities, and pre-and post-course assessments. It is designed by a Cyber Security Consultant / Certified Instructor with more than 20 years of experience implementing and managing Cyber Security projects.
How to Maintain Your CRISC Certification?
To maintain your CRISC certification credential, you need continuing education (CE) credits. The purpose of the Continuing professional education (CPE) policy is to ensure that all CRISC certificate holders maintain an adequate level of current knowledge and proficiency in privacy. In addition, the CE credits prove to internal and external stakeholders that your skills and knowledge are always up to date and relevant.